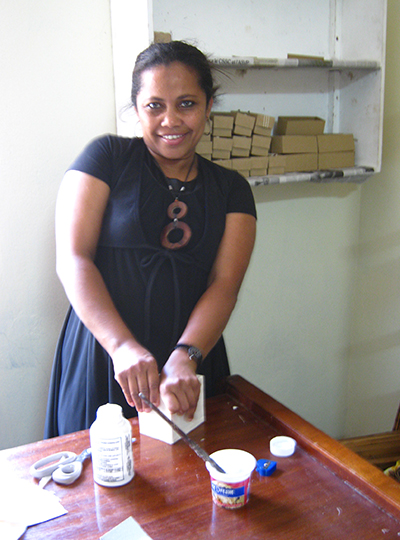 Beautiful Localhands kouma enn fami pou mwa, se enn plas kot mo kapav rankontre dimounn avek mem pasion ki mwa, partaz mo konesans avek zot, aprann nouvo zafer e rakont mo bann lexperians pozitif ek negatif.
Beautiful Localhands is like family to me; it is a place where I can meet people with similar interests, share my knowledge, learn new skills and talk about my positive and negative personal experiences.
Annick always had a creative side. From a very young age, she was interested in craftwork and was always looking for ways to create unique artistic works. As a kid, she used to make decorative macramé items, bracelets with scoubidou plastic strings and flowers from tissue paper. She always wanted to make a living out of her passion but never believed she had enough potential or skills to do so. In 2006, she joined Beautiful Localhands and the project helped her overcome her shyness, gain confidence in herself and her skills, and start her own workshop at home to create tailor-made clothes for her clients and prepare orders from hotels, including curtains, kitchen towels or garments repairs or tagging.
Telephone number: 57441726
Product category: Textile
Region: Mare d'Australia
Place of work: Home