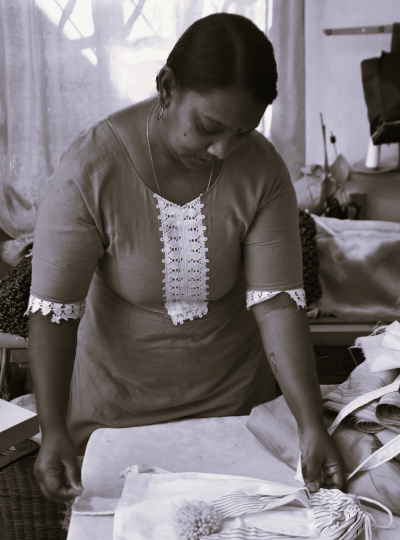 Mo ena plizier bon souvenir de mo lexperians kot Beautiful Localhands. Nou ti enn siper lekip koutiryer ki ti pe travay ansam Phoenix, nou'nn aprann plizier zafer lor kouma zer enn biznes ek nou'nn perfeksionn nou teknik koutir ansam.
I have many fond memories from my experience with Beautiful Localhands. We were a great team of dressmakers working together at Phoenix and we learned many things about how to run a business and honed our sewing techniques together.
Tina inherited her passion for sewing from her mother, who was also a dressmaker. She used to spend hours watching her at work and try to stitch some little pieces of scrap fabric together as a child, mimicking her mother.
She learned sewing techniques from her sister, who also followed in the footsteps of their mother. She then started working in a factory where she developed more techniques and improved her existing skills.
Passionate about sewing and wanting to make a living out of it, Tina joined Beautiful Localhands in 2009. She has since grown into a full-fledged dressmaker with her own workshop at home. She now has full confidence in her own set of skills and is highly recommended among clients.
Tina takes orders for tailor-made clothes for events and weddings, and produces bags, pouches and many other textile products for Beautiful Localhands, which distributed through souvenir shops, ordered by hotels or bought as corporate gifts.
Telephone number: 57964761
Product category: Textile
Region: Curepipe
Place of work: Home