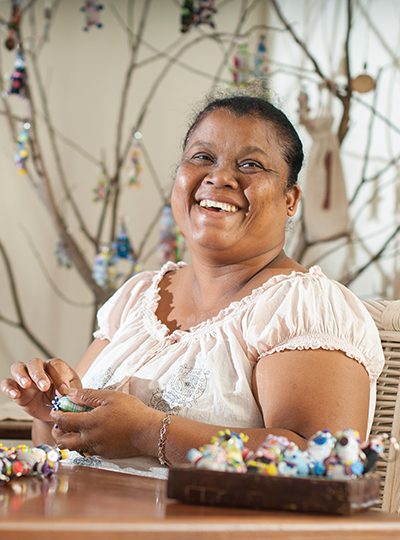 Gras a sipor ek ankourazman Beautiful Localhands, mo'nn devlop enn pasion ek enn talan pou koutir.
Beautiful Localhands supported and encouraged me to develop my passion and talent for dressmaking.
Françoise joined Beautiful Localhands (BLH) in 2006 as a hobby to keep her busy and also as an opportunity to bring home some extra revenue. Eventually the more time she spent at BLH, the more she developed a passion and talent for sewing.
Françoise works with Moniqua Barah in a workshop at her place in Pointe aux Piments. Several pocket-size models, trendy items made from pieces of scrap fabric were developed for them and they were also shown where to obtain the raw materials for their production. Today, both of them are self-reliant and manage their own production. Their products are best sellers in souvenir shops and hotels, tourists find their little dodo keyrings endearing, their little paperweights funny and cute, and their little "bonhomme" keyring is a hit among kids.
Telephone number: 58544992
Product category: Textile
Region: Pointe aux Piments
Place of work: Home