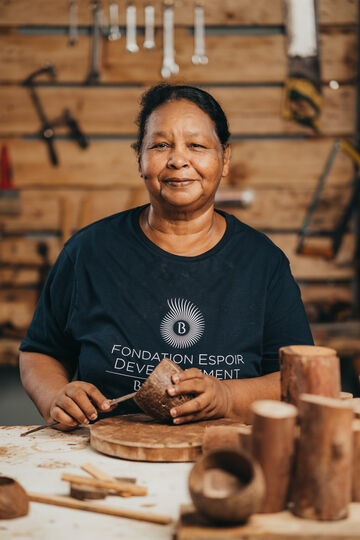 Mo ti touzour ena sa pasion pou kree bann prodwi avek ban matier natirel. Pandan mo 21 an lexperians dan lartizana, monn fer bokou kalite prodwi ek monn travay avek plizier matier natirel kouma fey banann, fib coco, ek ekaliptis.
I have always had a passion for creating products from natural materials. During my 21 years in the trade, I have crafted various types of products using different natural materials, such as banana leaves, coconut fibre and eucalyptus.
Georgette joined the handicraft sector in 2001. She learned how to make products from natural materials such as banana leaves, coconut fibres and eucalyptus at a women's centre. She also volunteered to provide craft workshops for underprivileged children in several shelters.
In 2008, Beautiful Localhands invited her to join an incubator at Poudre d'Or, where she would get the opportunity to develop new business skills and improve her craft techniques. After initial hesitation and careful consideration, Georgette onboarded the project and has since become an integral part of the Beautiful Localhands family. She has grown in the welcoming and friendly environment of the workshop, surrounded by people with similar passions and dreams. There she learned all types of business skills and new craft techniques. It took her some time to master the delicate art of coconut craft but now she knows how to properly clean, cut and polish it. Georgette has a collection of coconut products which consists of bowls, decorated vanity items, keyrings and photophores.
Telephone number: 57863857
Product category: Coconut/Wood
Region: Bambous
Place of work: Bambous Workshop