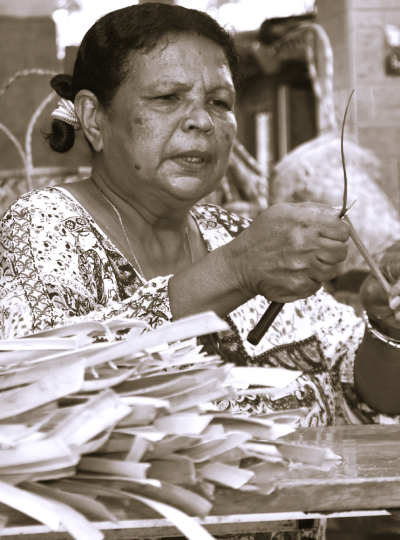 Vakwa se enn plant extraordiner avek boukou verti. Mo anvi montre dimounn so bote ek partaz mo konesans avek zot.
.
Vacoas (Pandanus utilis) is a plant with many virtues. I want to show its beauty to people and share my knowledge with them.
Jocelyne started learning how to weave vacoas leaves at the age of 16 and her greatest wish is to keep these precious skills in mind until she gets the chance to pass them on to another generation. She is a very passionate, dedicated and diligent artisan. You can always find her in her workshop sitting on her Vacoas mat with a relaxed look on her face, absorbed by her weaving. She is passionate for her craft and dedicates her time working on the many orders that she receives or creating new collections.
Jocelyne first started making small lunch baskets by the dozen and selling them door-to-door; it took her a lot of patience and dedication to become a successful small entrepreneur. Beautiful Localhands helped her set up her own workshop at home, learn how to manage a business and improve her expertise. She now has her own portfolio of clients and a large array of products which includes baskets, gift boxes, keyrings, trays and clutch bags.
Telephone number: 59155401
Product category: Vacoas
Region: Anse Jonchée
Place of work: Home