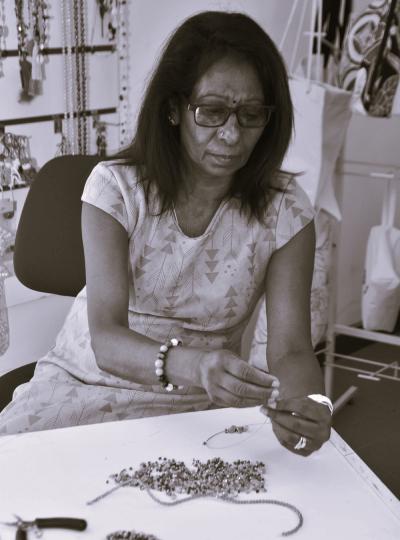 Laboutik Beautiful Localhands koumadir enn lakaz pou mwa; mo ti la depi so louvertir ek monn trouv so evolision pandan preske set an. Mo touzour prezan dan laboutik pou akeyir bann kliyan pandan ki mo pe mont mo bann bizou.
The Beautiful Localhands shop is like a second home to me; I have been there since the opening and have witnessed its development over nearly seven years. I am always ready to welcome clients at the shop while working on my jewellery.
Kamla has been a friendly presence at the Beautiful Localhands shop in Trou aux Biches since its opening. She can always be found sitting at the counter, diligently working creating her collection of jewelleries, ready to welcome clients with a warm smile.
Kamla enjoys meeting with new people every day at the shop. She has gained many friends and loyal clients over the years.
She also started jewellery making and has developed a passion for handicraft from a very young age. And thanks to Beautiful Localhands, she is able to make a living out of it.
Telephone number: 57018620
Product category: Jewelleries
Region: Upperville
Place of work: Home