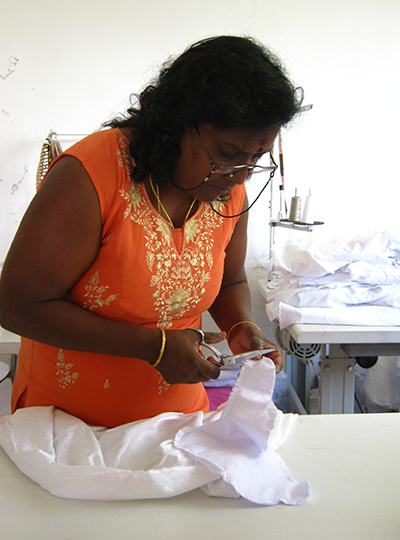 Mo pou touzour ena rekonesans pou Beautiful Localhands. Gras a soutien finansie ki monn gagne ek sa proze-la, monn resi pey letid mo garson.
I will always be grateful to Beautiful Localhands for the financial support I received through the project, which helped me pay for my son's studies.
Magalutchmee, or Anja as she is also known, is a mother of two and also a grand-mother of two. She is among Beautiful Localhands' most passionate and diligent dressmakers. She started learning sewing in social centres as a pastime while her children were at school. In 2009, she joined Beautiful Localhands to improve her skills and acquire new techniques and business skills.
The project helped her develop into an independent, creative and hardworking artisan. She now has her own workshop at home where she produces tailor-made clothes for her personal clientele for events and weddings, and textile products such as pillow covers, bags, tea towels and sega dresses for hotels.
During her years spent at Beautiful Localhands, Anja not only developed her sewing techniques, but she also made many new friends with similar passions and created plenty of fond memories.
Telephone number: 54505378
Product category: Textile
Region: Vacoas
Place of work: Home