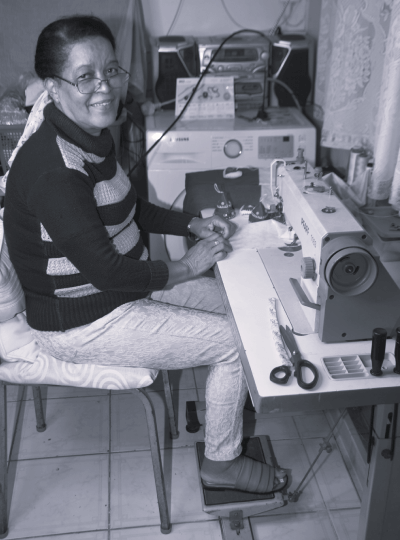 Koutir pou mwa ti enn pasion depi laz 12 an ek kan monn rant dan proze Beautiful Localhands, monn gagn bann zouti neseser pou devlop mo talan ek enn oportinite pou viv de mo pasion.
Dressmaking has been my passion since the age of 12 and joining Beautiful Localhands gave me the tools I needed to develop my skills and an opportunity to make a decent living from my passion.
Maryse learned sewing skills by herself at the age of 12. She has always been passionate about it and wanted to make a career out of her passion.
Joining the project boosted her confidence. She became independent, learned new skills and improved her know-how. During her years at Beautiful Localhands, she created many fond memories with the other dressmakers forming part of the project. She now has her own workshop at her place and her own clientele.
She makes small pouches and money bags that are available at souvenir shops such as Beachcomber boutiques. Her products are popular with clients and are of very good quality. Maryse can always be found in her workshop, patiently sewing clothes for her clients.
Telephone number: 58166479
Product category: Textile
Region: Phoenix
Place of work: Home