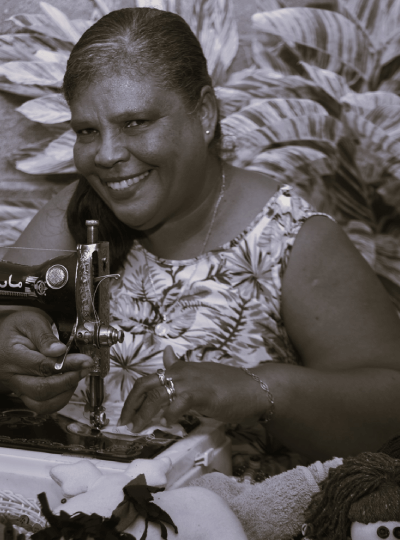 Depi mo lanfans, mo ti interese avek koutir; mo ti kontan fer bann ti zouzou avek bann bout latwal pou mo zwe, bann ti poupet ek nounours.
Since I was a child, I have always been interested in dressmaking; I used to make small toys and fluffy toys out of scrap pieces of fabric to play with.
Moniqua has been passionate about craftwork since her early childhood.
In 2007, she joined Beautiful Localhands and was given the tools to turn her passion into a small business. Moniqua teamed up with Françoise to run a workshop at the latter's place in Pointe aux Piments. Several pocket-size models and trendy items made from pieces of scrap fabric were developed for them and they were also shown where to obtain the raw materials for their production. Today, both of them are self-reliant and manage their own production. Their products are best sellers in souvenir shops and hotels, tourists find their little dodo keyrings endearing, their little paperweights funny and cute, and their little "bonhomme" keyring is a hit amongst kids.
Telephone number: 57170652
Product category: Textile
Region: Pointe aux Piments
Place of work: Home