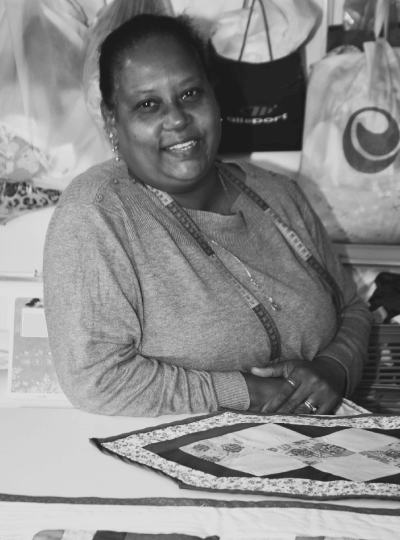 Beautiful Localhands inn ed mwa sirmont mo bann sousi finansie. Gras a bann komann ki mo finn resevwar, mo finn resi gagn enn ti lapey korek preske toule mwa pou soutenir mo fami ek mwa.
Beautiful Localhands helped me overcome my financial issues. The regular orders coming in enabled me to make a decent income nearly every month to support my family and myself.
Nadine has had a passion for sewing since she was a little girl, which is why she decided to join the Singer Centre courses to learn the techniques and practices to become a dressmaker. She had the know-how and skills but did not believe she could make a decent living by running her own workshop.
In 2013, she joined Beautiful Localhands with the aim of learning new sewing and business techniques and eventually running her own small enterprise. Nadine's journey on the project has been quite a success; she is now an independent businesswoman with her own workshop at home. She is confident about her skills and is constantly innovating and creating new collections of clothes or accessories for her clients. She also has her own clientele that places regular orders with her.
Telephone number: 54299408
Product category: Textile
Region: Forest Side
Place of work: Home