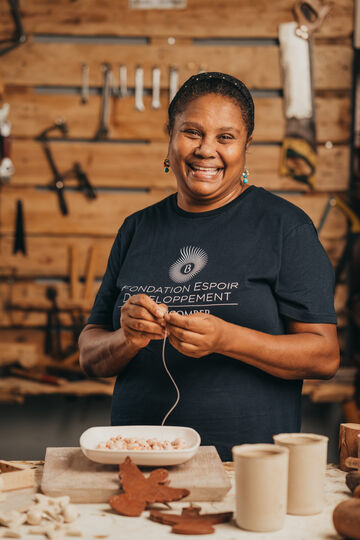 Potri se enn metie ki pasionn mwa. Mo kontan sa lexperians manipil later la pou transform li an enn obze presi.
I have a passion for pottery. I love to feel the clay between my fingers and shape it into a specific object.
Priscilla started her handcrafting journey as a dressmaker. She was introduced to sewing techniques at the young age of 12, when she started attending a housekeeping school.
She joined Beautiful Localhands' textile incubator in 2007 and learned sewing techniques and business skills. At some point of the project, there was a call for artisans to temporarily assist in setting up the new pottery workshop and she volunteered to join the team.
Since that day, Priscilla has never looked back and has become an integral part of the pottery workshop. She does not know how to sew a dress anymore, but she masters all the techniques and stages of pottery making, including how much clay is required, the way to polish the product to perfection and the required kiln temperature for the firing processes.
Telephone number: 58653426
Product category: Pottery
Region: Bambous
Place of work: Bambous Workshop / Home