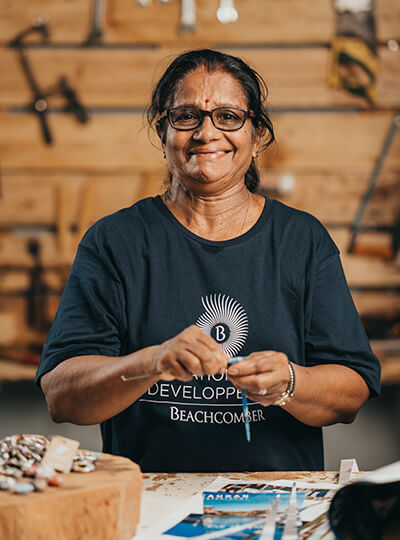 Seki mo kontan avek resiklaz, se sa konsep redonn enn nouvo lavi bann matier ki dimounn zete ek pa servi.
The thing I love about upcycling is to breathe new life into materials that people would have otherwise discarded and thrown away.
Sheela is passionate about upcycling and shares her time between the workshops in Bambous and at her place. She took up handicraft as a hobby to keep her busy while her children were at school and has since demonstrated unflinching dedication. She works with a variety of materials such as cork, macramé and recycled paper.
However, Sheela's favourite technique is paper quilling, which she learned by making a necklace from a magazine. Fascinated by this unusual technique, Sheela patiently rolled, shaped and glued together strips of paper to create beads, which she then turned into creative pieces of jewellery. She now sells her own collection of accessories at souvenir shops, markets, hotel exhibitions and the Bambous workshop.
Telephone number: 59094549
Product category: Recycling
Region: Bambous
Place of work: Bambous workshop/Home